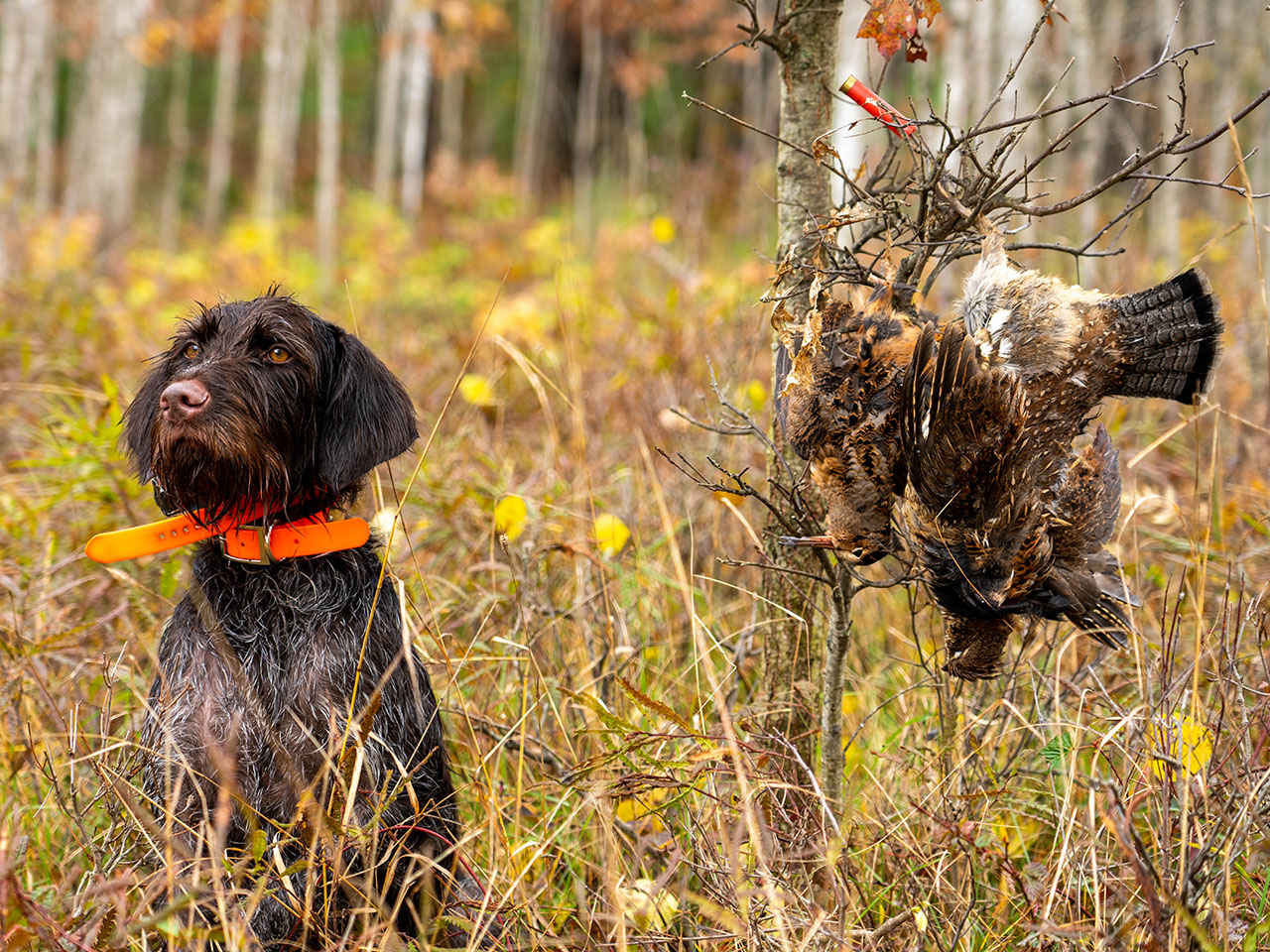 This last week I took a little time off of the river to enjoy some Upland Hunting and a little fishing with friends and family.  I always feel really blessed living up here. There are so many great things to do all year round, right at your door step.  When you have two pointing doggies  as your kids they pretty much tell you" it's time to go hunting".   There is nothing like being in the Grouse Woods this time of year the sheer beauty of the spectacular color of Autumn and just the smells of the Seasons Changing is abundant.   Like to thank guys like Scott Broiser of   
https://michiganbirdhunter.com/
for joining me on a little mini Grouse Camp up in Grayling before the Steelhead Season started.  We had a blast despite the heavy rains and winds. Scott is whom Heather and I got our Drahthaar Omni from, he is a breeder of these versatile pointing dogs.  Thanks to Matt Zudweg of 
https://feenstraoutdoors.com/wordpress/
and owner of 
https://www.boneyardflygear.com/
we spent a great day Swinging for Steelhead and I was able to connect with this nice fish.  It was a real treat for me because usually my busy guiding season for Steelhead doesn't  allow me to get out to much on my own until the Winter months.  It was a real treat to feel a hard grab from a fresh fish in warmer water.  In the winter it's mostly a pluck, pluck scenario on the fly.  This fish has a great story behind it too.
😁
The Pere Marquette River came up once again the middle of last week and now is on the drop.  There are still plenty of King and Coho Salmon around in the upper stretches and we are seeing a few Steelhead scattered through out the whole river system.  On the Swing try Leech patterns with some flash right now as the water is dirty. When its starts to clear go to less flash and even baitfish patterns like Sculpins in Olive or Tan.  Egg flies are probably going to fish the best right now because of there still being so many Kings around.  Try more Natural looking colors Steelhead Orange and Creamy Delight are working well.  
Pics : Omni with a Grouse and Woodcock. (photo Scott Broiser)  Omni has such great natural retrieving ability here she brings back Scott's Grouse.  June all fired up with nice Grouse "she's fired up because I finally hit one"😁 Matt Jacobson joined me for a great day of hunting we did a little training with his new pup Hopper a GSP that is a half sister of June.https://flyingmfarm.webs.com/ She's catching on fast.  First Steelhead on the swing , I found this fresh Steelhead with Matt Z.  Another Steelhead that took a Streamer on the Swing as we did a little cast and blast that day, what a great way to get a whole day in Fishing and Hunting.  Both Steelhead crushed a Leech pattern.