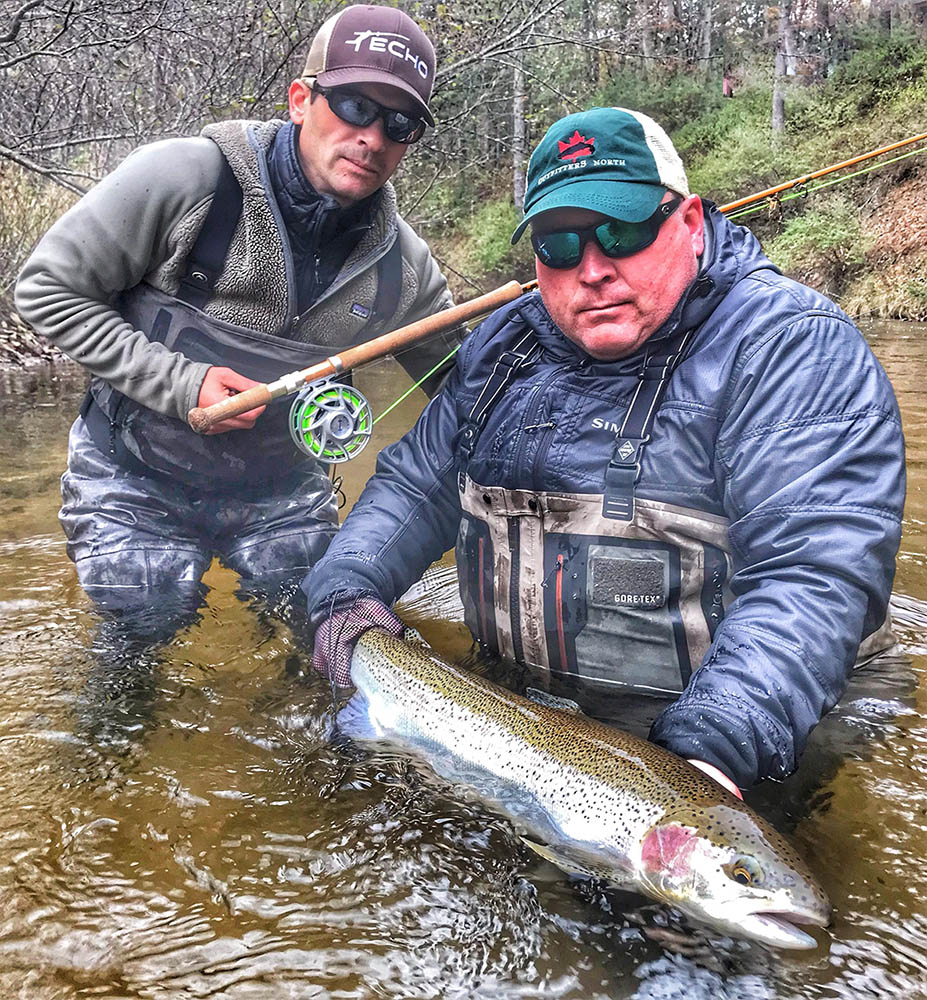 Fall for me is such a stressful time of year, in a good way though.  It's the decision's when you have a day off, do I go Grouse hunting, Bow Hunting or Steelhead fishing? Pretty good problem to have if you ask me.  I recently  had my usual time off to do some Hunting and re-group for my  Steelhead Season ahead.   It was a successful week, the freezer is full, firewood's stacked and the swing flies are tied. I got to spend time with Heather and friends chasing  dog's around in the beautiful Grouse woods of Northern Michigan.
I started my Steelhead Season the end of last week and fishing is tough especially on the swing. There are fish through out the whole river system.  The river has been really low and clear making for a tougher bite.  Hitting a lot of Water has been key.  I washed the truck and boat though yesterday and now it's raining, love it when a plan comes together.   I have been strictly swinging, finding fish on smaller flies Leech, Gobie and Sculpin patterns in Black and Olive.  If your interested in some Steelhead fishing I have a few open dates end of December and into January   which can be a great time to learn the technique of Swinging Flies and Spey Casting or fishing Indicators/Floats under a Switch Rod.  Dec 27, Jan 7,9,10.   If interested you can email me at
outfittersnorth@hotmail.com
and don't forget your Bootfoot Waders.
Pics Scott Broiser 
https://michiganbirdhunter.com/
and Nick Green
https://mucc.org
  joined me for a nice day on the water, once again we had to work for it, but it payed off. Scott got this nice Hen on a Leech pattern.  Tom is all smiles with this nice Steelhead taken on a Sculpin pattern.  John with a great fish taken on cold frosty day.   Josh Greenburg 
https://gateslodge.com/
looking ahead for another point from June.   After all these years you still can't beat the view from a Treestand in the Fall.