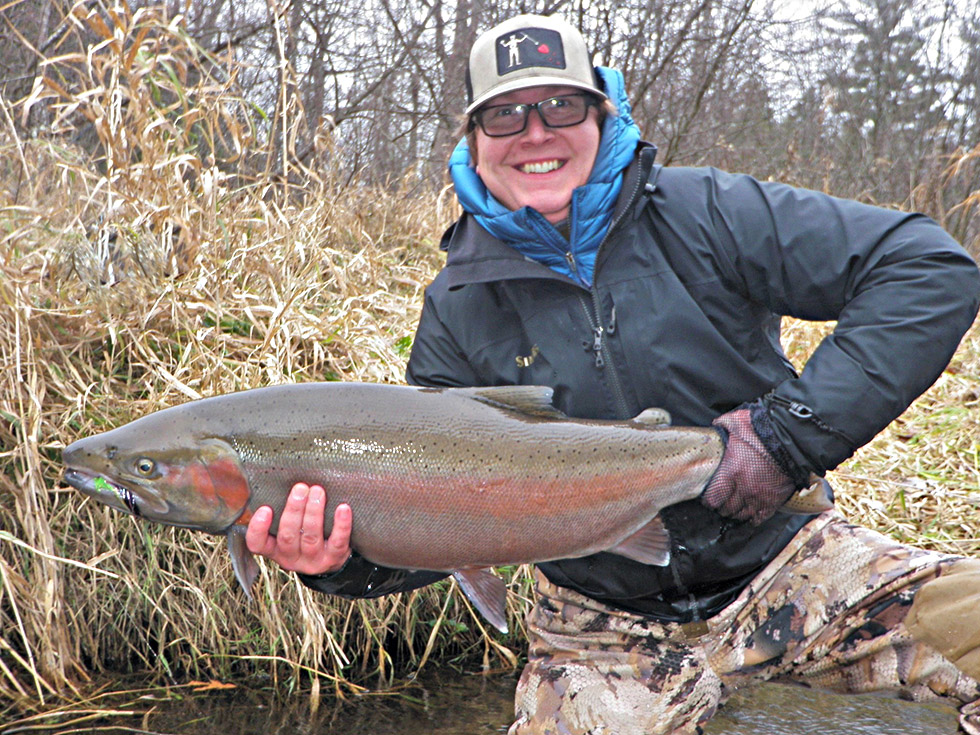 Steelhead fishing still remains spotty on the Pere Marquette River.  We finally received some rain last weekend which brought water levels up, it did however cool the river off again. Steelhead are really scattered through out the whole river. Fishing right now is the equivalent of being a Lions or for myself a Packer fan this year.  A lot of high's and low's. Some days the swing bite has been pretty good and most days we're working  hard for it.  Flies have been brighter flashier flies for the Swing.  For Nymphing with the floating lines it's been bigger brighter Nuke and Clown egg's since the rain.  Nymph's try bigger Hexes and Stoneflies.
Pics from last week.   Ryan had a great couple days on the swing.  He cracked this giant Buck on a Leech pattern. One of my biggest this year.  He also brought this little chrome hen into the net. Matt Verlac a excellent Trout Guide  at Gates AuSable Lodge
https://
gateslodge
.com
and his father in law Jack joined me for great day of Steelhead fishing.  Jack gets his first PM Steelhead with the fat line and a bright Clown Egg.  Matt admires this great looking hen. Jack boated another that spent more time out of the water then in.  Tom joined me for his annual three days of swinging for Steelhead it was much better with a little stain to the water.  Here he is with a couple of nice fish from the week that cracked his flies. Tom ties some awesome Swing flies.  We both enjoy watching them swim.  The last day we walked in a winter wonderland of 5 inches of falling snow to some of my favorite Swing Runs. The bite was tough we enjoyed a hot  tailgate lunch of Venison Stew.