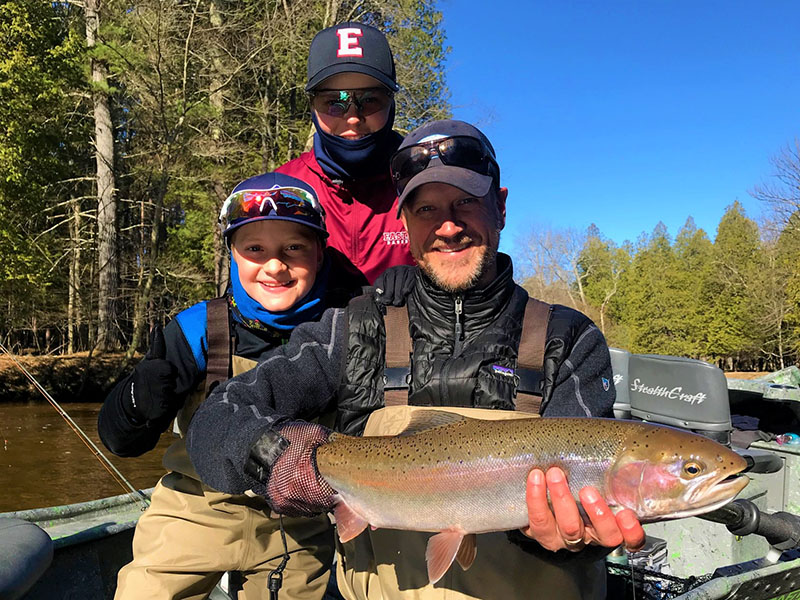 Well it's time to pull the clutch in and change gears.  Trout Season has officially started on the Pere Marquette River.  There are a few Steelhead around.  With the warmer water temps there spawning fast and heading out to the Lake Michigan. It's finally warming up now the banks are getting a little greener day by day. The birds are starting to nest, even heard a couple Turkey's gobbling.  Last week we did a little of both, some Steelheading and some egging for Trout on the cloudy days.  Found some really nice Brown's and Rainbows sitting below the Steelhead.   Friday before the opener did some stripping of flies for Trout and didn't have to much action mostly smaller fish and fish in the teens.
I want to thank everyone who joined me for another great Spring of Steelheading.  I Will see you next yea!  Hopefully we will have some more Spring like weather in April.
For flies for Trout try small egg patterns still euro nymphing or under a float along with small stonefly nymphs.  Streamers try small Fry patterns stripped off the banks.  For dry flies I did see a few Hendrickson's coming off this week along with small Black Stoneflies and Olives on the cloudy days.
Pics last week  Jim and Julie came up from Missouri for a great couple days on the water.  We had a lot of fun chasing Steelhead and Trout.   Tim, Andrew and Henry  joined me for a great day to be on the water.   Tim had great success with a couple of nice Steelhead. Both boys hooked a bunch and landed some nice Trout and Steelhead. Henry practicing catch and release, teach them young.  Andrew with a monster Buck that slammed his Fry pattern.  Nelson and Ed finished up the week with some Steelhead and Trout to hand.  Ed with his first Steelhead ever on a Fly Rod. Nelson found this great Brown on a small Estaz Nuke Egg.  I'm back on the bike, had a great ride this weekend.