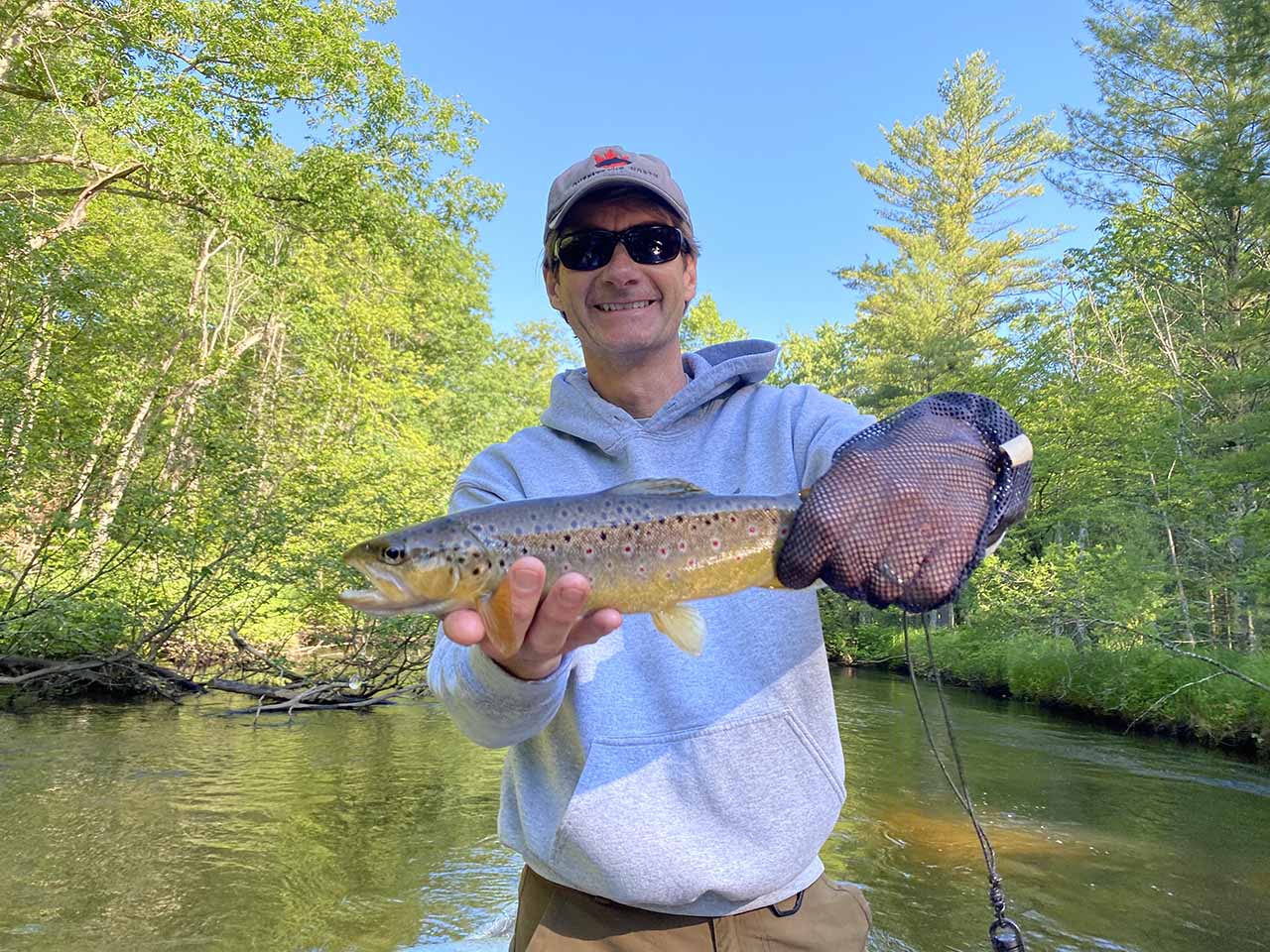 Last week was finally a week of no hard rains to bring the river up and dirty we saw a little rain this week. The river is in great shape though.  Making it much better Dry Fly conditions then in the last few weeks.   Fishing for Trout on the Pere Marquette last week was a blast.  Trout seemed to be more eager to eat again and were looking up  a little with curiosity.   The heat towards the end of the week got the Hex's going on all most all the rivers in the State.  This should only get better as temps warm up and rivers start to clear from all the high water.    For now it's been a  wild assortment of flies.  Small streamers on cloudy days along with some prospecting Dry Flies like Stones, Stimulators, Iso's and yes even a Hex.   Evenings still seeing a good amount of Sulphur's, Drakes and Yellow Sally's.  Don't forget the Mosquito's there's plenty of them to go around.  Hope everyone is doing well.
Scott finds some trophy butter looking to feed off the surface. It's pretty sweet to get a fish of this caliber before the lights go out.  Who says you can only catch big fish on the PM after dark? A true trophy and well deserved.  Jim with a couple of great fish taken on top.   Kyle and Libby joined me for a great day on the water the Trout were Happy and well we all had a great time.  Kyle and Libby won the trip that Nomad Anglers
https://nomadanglers.com
  auctioned off during the Corona Virus shutdown. They said they were both somewhat New to fly fishing, I however beg to differ. They did awesome !!! Was a real treat to get to fish with them and have such great weather and great fishing. Thanks again to Brian and the Staff at Nomad Anglers for helping us out.