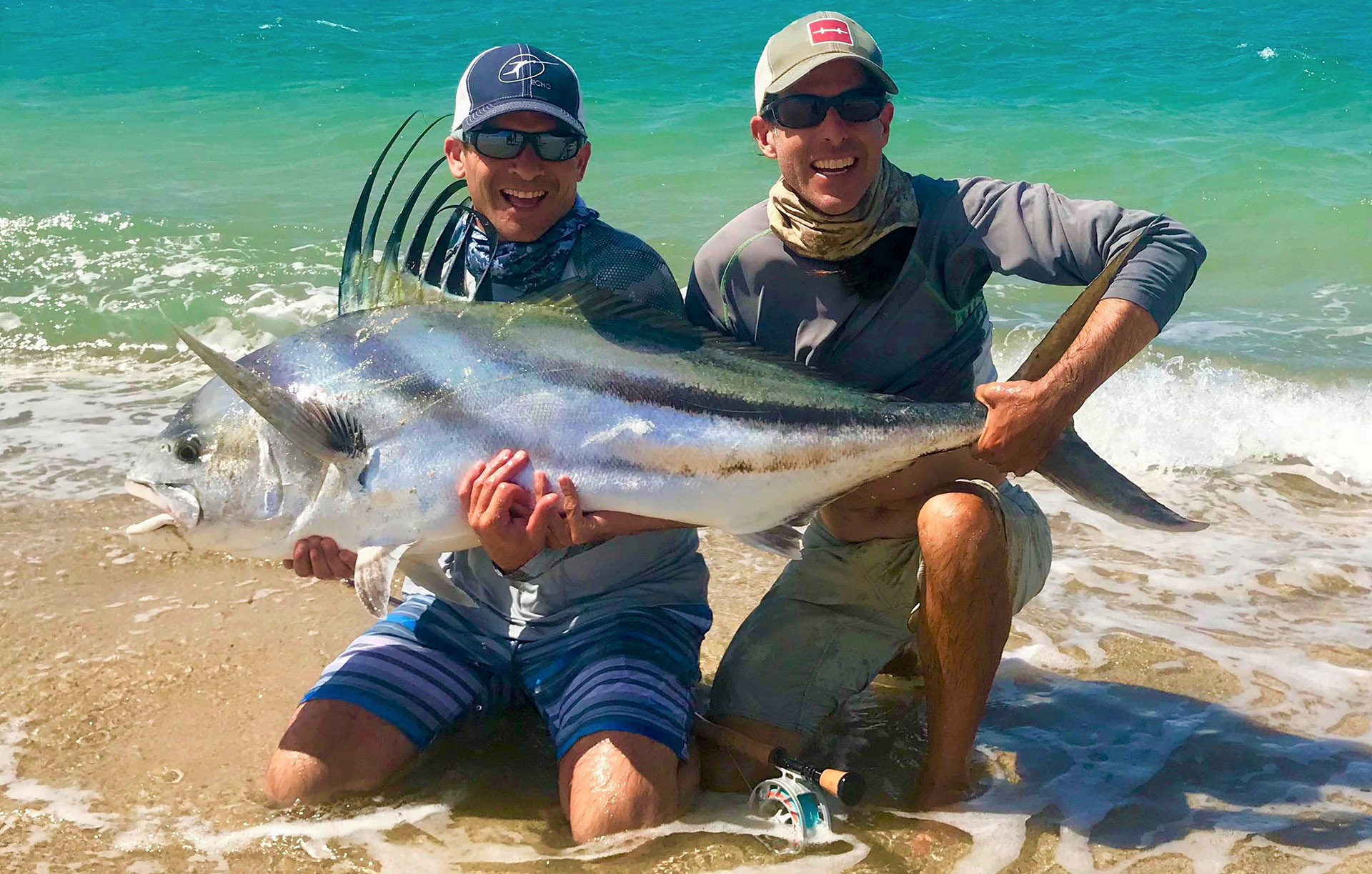 As most of you know the Pere Marquette River was dangerously high last week. With a storm that came in two weekends ago that dumped down up to 12 inches or more of rain in some areas. It was crazy, with the high water came dangerous floating conditions with large trees giving way and floating debris. The river now is back into shape and as of now the boat Landings from M37 as far down as Upper Branch Bridge are open.  Before the highwater the day time Terrestrial fishing was really starting to heat up. The fish were looking up. Going after Damsel Flies, Ants and Hopper/Beetle patterns.  This week will be interesting to see if the fish became full again with the high dirty water of last week.   Last week this white paisley Trout guide replaced his 5 weight with a 10. I found myself in Baja with good friends and clients Matt and Nelson Jacobson.  We chased anything we could on Fly Rod and Reel. Are main objective however was chasing Roosterfish from the beach. This is not and easy task, any of you who have experienced this can agree. So I felt really blessed, humbled and extremely excited when a shot presented itself on a Grande Rooster that showed interest in the fly. Top notch  guide Lance Peterson coached me through it and after many epic runs I finally brought it to hand.  It was truly a awesome fishing adventure that I will remember forever.   We not only saw Roosters but Dorado, Wahoo, Trigger and some cool Surgeon fish.
If your looking for some Lodging this fall check out PM Trailhead Lodge at
https://pmtrailheadlodge.wordpress.com/
  Glen and Bonnie are the owners and operators of this great retreat for fishing, hunting, snowmobiling  or dirt biking its located near all the trails and close to the river.
Pics: Last week before the flood and my Saltwater Journey. Josh and his son Holden had a great day on the Pere Marquette River.  Bob got a great fish on a Damsel pattern. Few Salty pics from Baja.