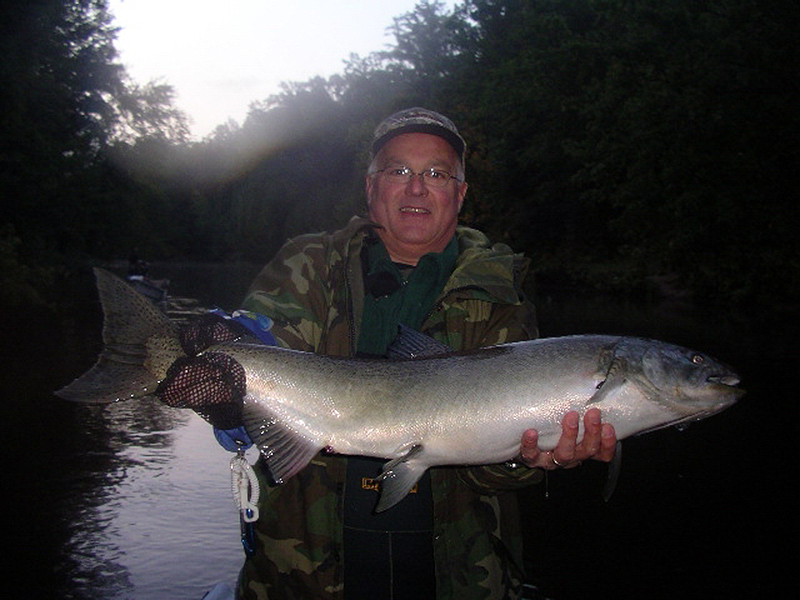 The Pere Marquette River is on the rise, we're getting some much needed rain up here right now.  The river is getting dirty and coming up more.   A few Salmon started to show up in the river last week with the recent rains we had.  They were moving fast though, due to the dirty water.  Best bet was tossing crankbaits down river for more success.   Trout fishing was good last week before the heavy rains.  We finally started to see Flying Ant's around and Hoppers were working well too.  When the rains started the Streamer bite was good to.
The river now is on the rise fast and getting dirty. Since Sunday night we received a significant amount of rain and storms.  Look for fishing to be tough this week, until the river levels drop and clear.  Want to thank everyone who joined me for a great Trout Season this Spring and Summer.  We had some really good daytime fishing this year and a few good days of fishing the rise in the evenings. See you all soon for Fall Steelhead. Thanks again !!!!!
Crankbait King in the lower river.  Couple fish that fell for the Ant.
Don't forget to like us on Facebook at https://www.facebook.com/outfittersnorth  and Instagram  at https://www.instagram.com/jeffhubbardpmriverguide/