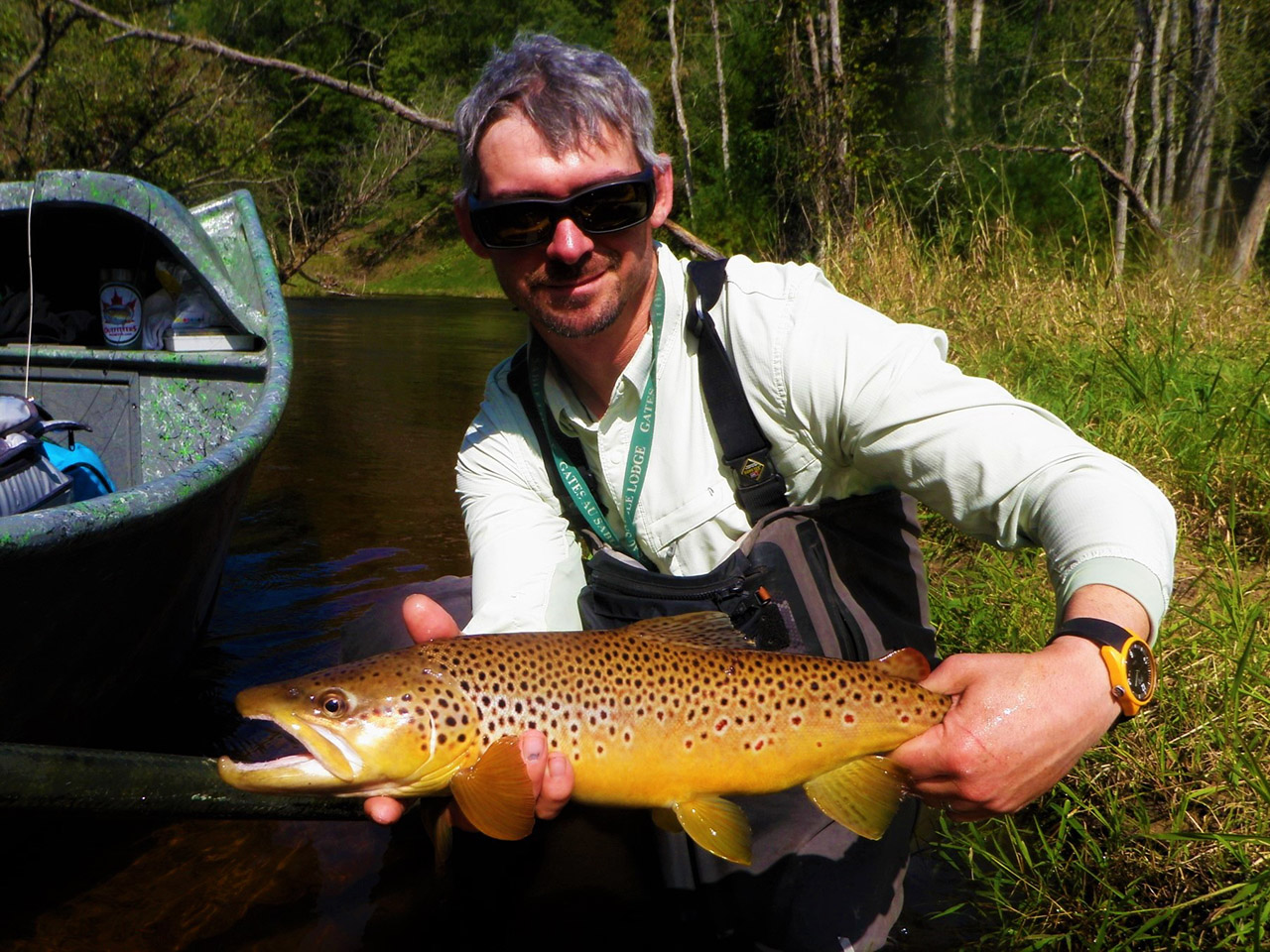 The Pere Marquette River fished well last week for migratory King Salmon and resident Brown Trout. Last week we mixed it up a bit. Taking advantage of the higher dirtier water and some really good Trout Anglers. We spent a couple days stripping streamers for Trout which really payed off. It was some of the best Trout fishing I had seen all year. These fish are just absolutely stunning this time of year before they spawn. With there deep butterscotch hues to there vibrant spots of red and orange there truly a god's work of art. First Fall Colors of the Year. These lucky Anglers did it with six weights and sink-tips and fly casts. So it made it that much sweeter !!! Salmon fishing was good too, with the high water earlier in the week the fish were moving and heading up the river at a fast pace. So fast we hooked two with Lampreys still on them all the way in the upper river. Crazy to think these fish can cover that much river in a 24 hour day. The fish are scattered through out the river system however the lower you go once again the dirtier the water. Looks like another good shot of rain heading this way, so will keep you posted on the water level. I don't recall getting this much rain in the fall in a long time. It's good though for the fish and there returns. I know I'm getting excited for the fall/ winter Steelhead season coming up. Don't forget to follow us on Facebook at https://www.facebook.com/outfittersnorth
Instagram at jeffhubbardpmriverguide.
Pics from last week : Josh Greenburg joined me with his 6 year old son Aaron for a taste of Salmon and fishing and a lot of Trout fishing. It was a awesome day !!! Josh owns and operates Gates AuSable Lodge on the AuSable River in Grayling. https://gateslodge.com/. We had some great Streamer fishing on the PM and Aaron battled a few King's and Trout. With Trout fishing being good Sam and Mark wanted to give it a shot. On this day the clouds were out making the bite even that much better on the streamer. Sam even scored a King, which was quite the battle on a six weight. Scott and Andy had a great day getting a mix bag of King's and Andy scored with this awesome looking Brown Trout. We relocated the Lamprey though.😁 Mark and Ian finished off the week with some great Salmon fishing a little cloudy weather and some new Salmon showing up in the river made for some great battles. Mark got a great Trout in the a.m. on a small Nuke Egg.