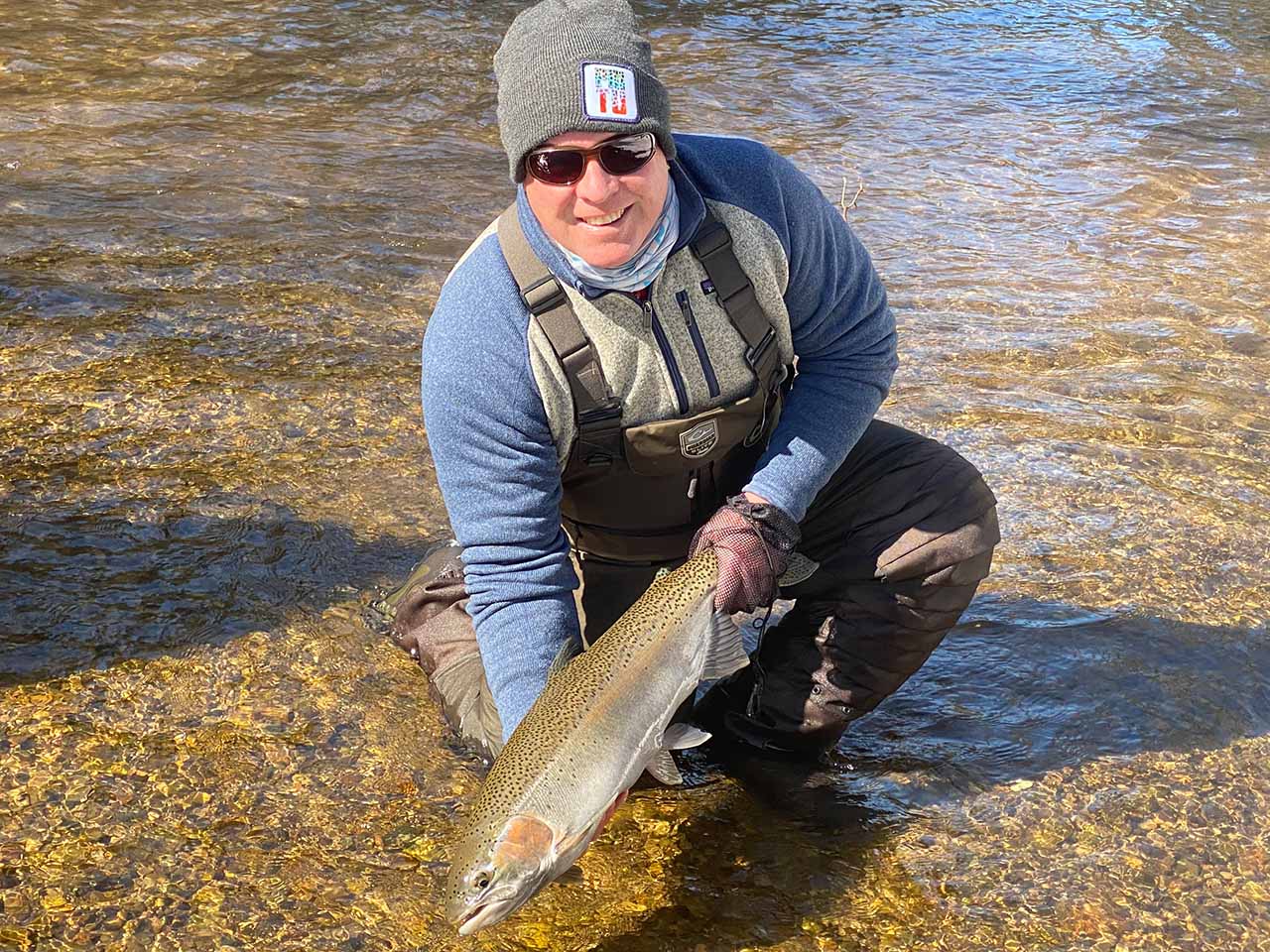 The arctic blast has hopefully come to an end on the Pere Marquette River.  Steelhead fishing remains good with a mixture of old Winter fish and few fresh Spring fish around.  Water levels are still low despite the warmer temperatures.  We had a lot of snow up here and it's melting slow look for water to rise when the swamps finally let loose, just a matter of time.  For now, though you can find Steelhead scattered throughout the whole river system. For flies try smaller Egg flies in more natural hues on the sunny days and a little brighter on the cloudy days.  Nymphs have been working well too, Hex's, Stoneflies and even Fry Patterns are showing some interest to the Steelhead and some decent Trout.  For the swing smaller Leech patterns having been working well.
Good luck,
 and enjoy the weather , hopefully Spring has Sprung !!!
Pics from last week :  Mike joined me for his annual day of Swinging flies for Steelhead , he managed to find a couple nice Hens on a beautiful Spring like day. Clint from the Red Moose Lodge
Home – Red Moose Lodge (baldwinredmooselodge.com)
  and Scott of Pine Hill Kennels 
Home – Pine Hill Kennels (phkennel.com)
   joined me for a nice day of Steelheading.  We all found some sucess and Scott took some great photos along the way with a different perspective of Steelhead fishing . Not always about the grip and grin. I enjoy seeing photos that focus sometimes more on the battles and the fish themselves. Bob and Tony joined me over the weekend for their annual February Steelhead weekend.  Saturday despite a lot of Angling pressure and boat traffic we had a great day, and they got to shake hands with some nice fish taken on Indicator's and Egg flies and Nymph's . Tony also managed to get this nice Brown Trout on the swing.