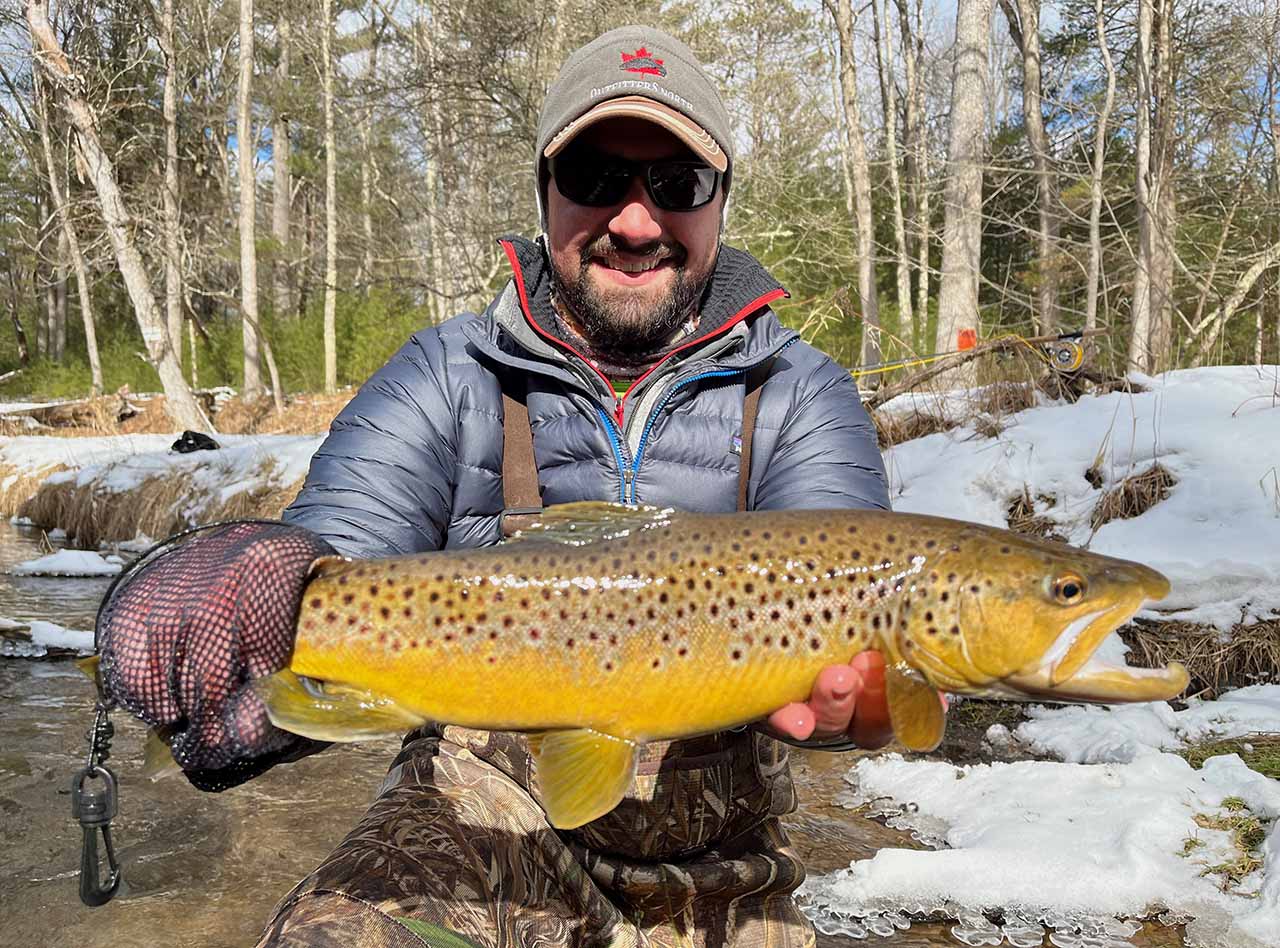 Spring Steelhead season kicked off the end of last month and it still felt like winter fishing.  The bite window has been on off with the colder and then warmer temps. The Pere Marquette has been low, cold and clear, we did finally see a small bump in the water level beginning of the week.  It now is dropping again and getting clear with the colder nights and days again.  Nymphs fished well on the sunny days and Nuke Egg's in more natural tones also found some fish.  On the swing it was Sculpin patterns fished slow.  Look for fishing to continue this way until we receive a good amount of rain to bring the water levels up with more steady temps.  For now, it's mostly winter fish with a few spring steelhead showing themselves.
Few fish pics from the last couple weeks. Thanks to all who joined me on some cold winter days of fishing.  Tony and Bob did their annual February float we saw some great fishing before the crowds came.  Tony with a stellar Brown and Bob with a really nice Steelhead taken on a Hex nymph.  Jeff ended the month on a good note with some nice fish like this bright hen that fell for a Fry pattern.   Ed and his son Pete all smiles on a cold day with the first Steelhead and trout of March.  Tom and his dad John joined more for a couple days of winter like weather heavy snow, wind and temps in the teens, but they toughed it out and was so proud of John at 92 still getting it done. "You can't make this up," 2 Browns on one drift and both respectable Brown Trout to say the least. Tom with a nice spring steelhead that took a hex nymph.
For Sale !!!!! Still up for sale and a heck of a deal.  I have a good client selling this great raft for a great deal.  It's 13 ft Downriver raft with an awesome Trail Water raft trailer and everything including Sawyer Oars, Anchor, and lines and much more accessories.  Been on the water only a handful of times and garage stored.  Asking $6,000.00 or Best Offer. If interested, you can email me at 
outfittersnorth@hotmail.com
.  Great deal !!!!!