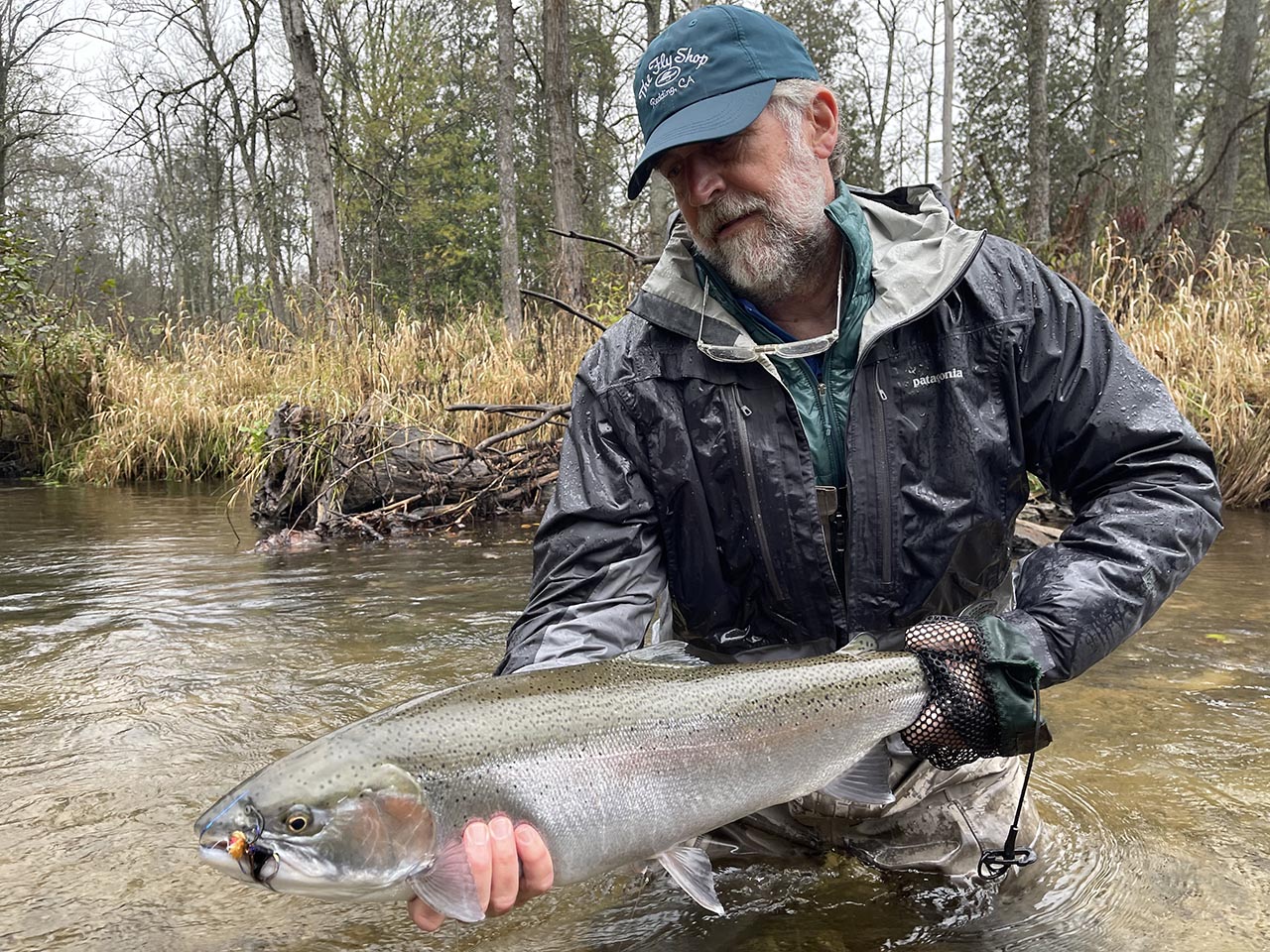 The Pere Marquette River is very low and clear. You can find a few Steelhead around but good luck trying to get them interested. Covering a lot of water is key right now.  We desperately need a change in weather to bring the river up and more fish into the system.   Last week's fishing was on and off, cloudy days and days where there was less fishing pressure you could find a few Steelhead and Trout willing to play. High sun and more people have been tough conditions.   Mostly swinging flies try smaller sparser patterns that mimic Sculpins and other Baitfish in more natural tones.  My Low Water Leech and Sculpin patterns work well in these conditions.
I have a good client selling this great raft for a great deal.  It's 13 ft Downriver raft with an awesome Trail Water raft trailer and everything including Sawyer Oars, Anchor, and lines and much more accessories.  Been on the water only a handful of times and garage stored.  Asking $6,000.00 or Best Offer. If interested, you can email me at
outfittersnorth@hotmail.com
.  Great deal !!!!!
Bruce started the Steelhead Season off with a bang last week cracking this bright hen on the swing a hit we both will never forget. Made his Hardy Perfect sing and bark on one of the only days we saw some rain.  Nice Rainbow also taken on the Swing.   Finally cooled off a bit to the get the Dog's out Hunting the ticks were still bad though.
Urgent !!!!! We need to protect our resource and the Wild Fishery we have here.   Over the years we are seeing a very low number of Steelhead returns into the rivers Spring and Fall.  As Anglers we need to protect this resource and make it better for the future before it gets too far and our fishery for Migratory fish such as Salmon and Steelhead go the way of the the West Coast and British Columbia.  NRC is making a proposal along with Anglers to lower the limits of possession for Steelhead.  Here is link to proposal 
Commissioner Nyberg FO 200.22 Amendment (michigan.gov)
Commissioner Nyberg FO 200.22 Amendment    
     Please help by doing your part and writing a letter to the NRC to protect our Michigan Steelhead with hopes that the numbers of return fish will increase from the years to come.  You can email them at 
nrc@michigan.gov
<
nrc@michigan.gov
>.   L
ets protect this Wild Fishery the Pere Marquette River.  Deadline is November 10, thank you again, tight lines.