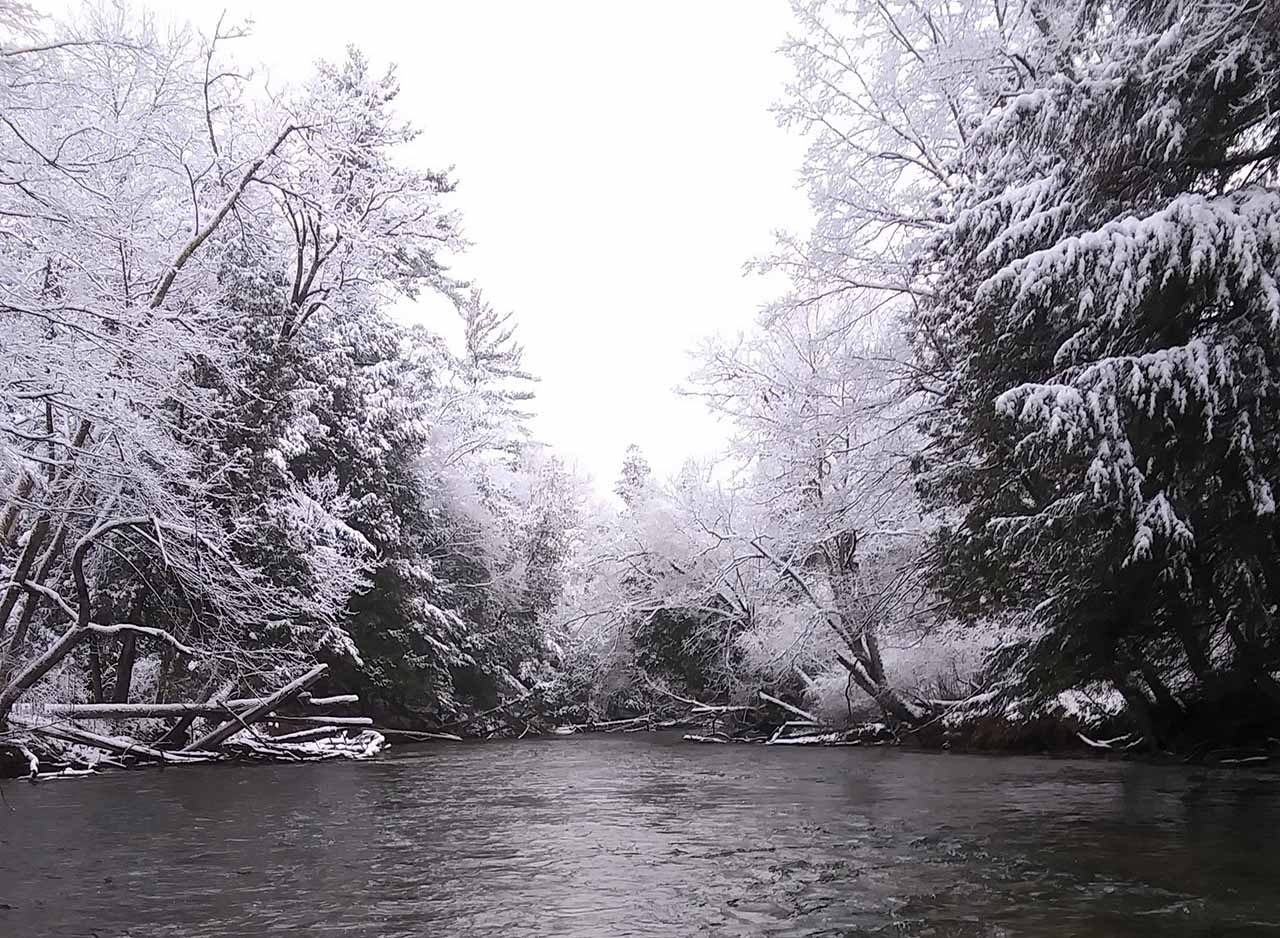 Hope everyone is doing well and had a great Thanksgiving with their family and friends.  Hard to believe that December is here that's until walk outside in the morning. We have snow on the ground and the mornings have that Winter bite to them now.  Steelhead fishing really hasn't changed much the Pere Marquette is still very low and clear and to make matters worse it is now cooling off every day.   Fish numbers are low, not only here but on all our great Northwest Michigan Rivers.    We are finding a few fish but working hard at it a lot of long days on the water.   The fish are very scattered throughout the whole river system with a lot of voids in areas.  Higher , Dirtier water would be the recipe for better fishing and fish moving more.  Swinging flies has been the go-to lately.  Flies have been more natural Sculpin patterns on the brighter days or shallower pools. Overcast days Leeches have been working well.  For Egg's and Nymphs more natural Egg patterns, Oregon Cheese ,Apricot or Peach have worked well and for Nymphs try Stoneflies, Steelhead Bugger's, and Hex Nymphs.
Urgent:   I urge all you Steelhead Anglers doesn't matter if you enjoy fishing with flies or gear in our great state for Steelhead.  Please write a letter to the NRC for limiting the possession limit on Steelhead.   Rivers like the PM that we all love and Big Manistee, White, and Muskegon are just not seeing the returns.  The has been an ongoing issue now for a few years and I personally don't see it getting any better unless we act and educate all Anglers who enjoy spending a day on a river or stream in Michigan chasing these magnificent gamefish. Here once again is the link to the NRC please take the time to write a letter or even just a paragraph.  I thank you and so do the Steelhead.   
nrc@michigan.gov
Pics: Tom with a nice Buck that cracked a Leech pattern on the swing.  Tom with a nice Hen taken on a Hex Nymph.  I met good friend Rich for a nasty Steelhead kind of day of Swinging flies on an old familiar beat of mine.  Wasn't a lot of fishing pressure on the water due to the weather and big college football game on that day. Was a lot of fun and I took this nice Buck on a Sculpin fly. Thanks Rich !!!!  Matt and his father-in-law Jack joined me for their annual Fall Steely trip, Matt with his first Swing fish that he coaxed with a Sculpin   Top Pic -Some fresh fallen snow Tuesday morning.