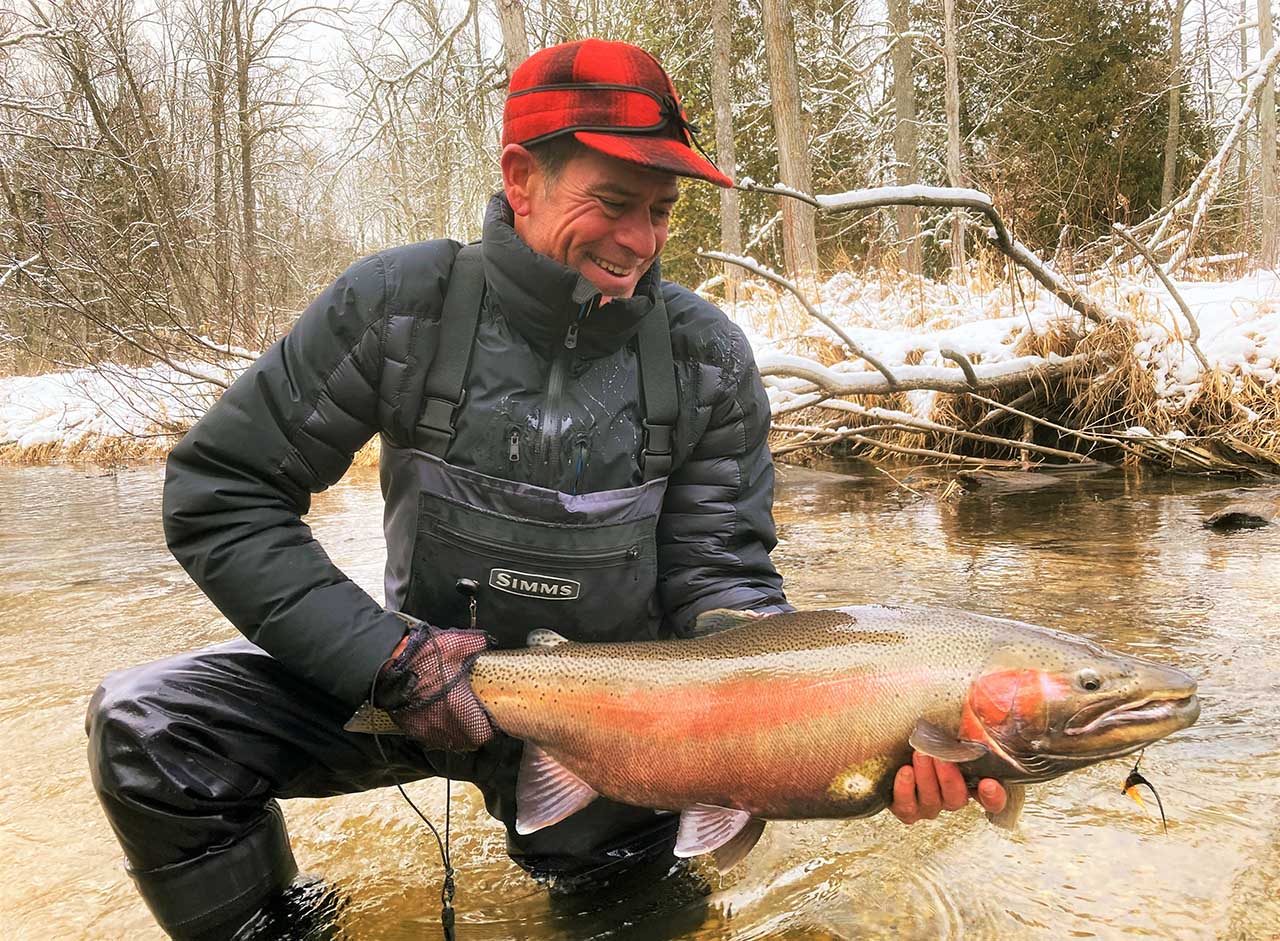 Winter has landed on the Pere Marquette River.  Last week we saw a pretty good cold front, brought about 5 inches of the white stuff and temps started to drop by Tuesday.  The river is in good shape with good color however with the drop in air temps also brought a drastic drop in water temps and level.  We might see a small spike in the level again after this last weekend we did get some rain and warmer temps.  Fishing was good last couple of weeks has been decent.  With winds out of the east last week and colder water, the bite was on and off each day.  Which is expected with the weird weather patterns we're having.  You can find Steelhead scattered in all sections of the river. Look for winter water now, slow and woody is a good bet.     Flies on the Swing Leech patterns and Intruders are working well , along with baitfish patterns on the brighter days.  For Egg's try Clown Egg's and Nukes in brighter colors. As the water temps drop Nymph's will also start to fish well,  Hare's Ears, Hex's and Buggers fished slow under an Indicator will start to produce.
I want to wish all of you a Merry Christmas and Happy New !!! 
Thanks to all of you who joined me on the river during this crazy year. You support ,friendship and business mean a lot to me and I'm glad to make memories on the water with every one of you.   I hope all of you and your families stay healthy this 2021 Season.  Tight lines !!!!!  Thank you, Jeff
Pics from last two weeks Dec 8-17:    Rich gave me a break from rowing and I even got to wet a line.  We had a blast, found some Steelhead interested in the swung fly and the eggs.  It was a real treat to fish and not row and experiment with some different spots and flies throughout the day. Thanks Rich!!!!  Jim joined me for a great day on the river. We swung the big flies and found a couple great fish.   Then the snow came, Bruce joined me for a day of Winter Steelheading. The goal was to find him a fish on the swing and he got to shake hands with this nice buck.  Nice Job Bruce!! (top pic) Jim was back for a day of swinging flies for Steelhead . This time the weather was much colder, and we saw an east wind. Bite was tough and hard work and patience payed off with this monster buck that took a leech pattern.  Josh and Matt of Gates AuSable Lodge 
Fly Shop, Fishing Lodge, and Restaurant in Grayling, Michigan (gateslodge.com)
finished off the week fishing Indicators Nymph's and Egg Flies.  Once again, the bite wasn't great but surprisingly we had a pretty good day finding a few Steelhead, Coho and some Trout.  Matt finished the day off with one of his personal best Steelhead, this fell for a grapefruit Nuke Egg and fought hard.  A great buck Matt !!!!