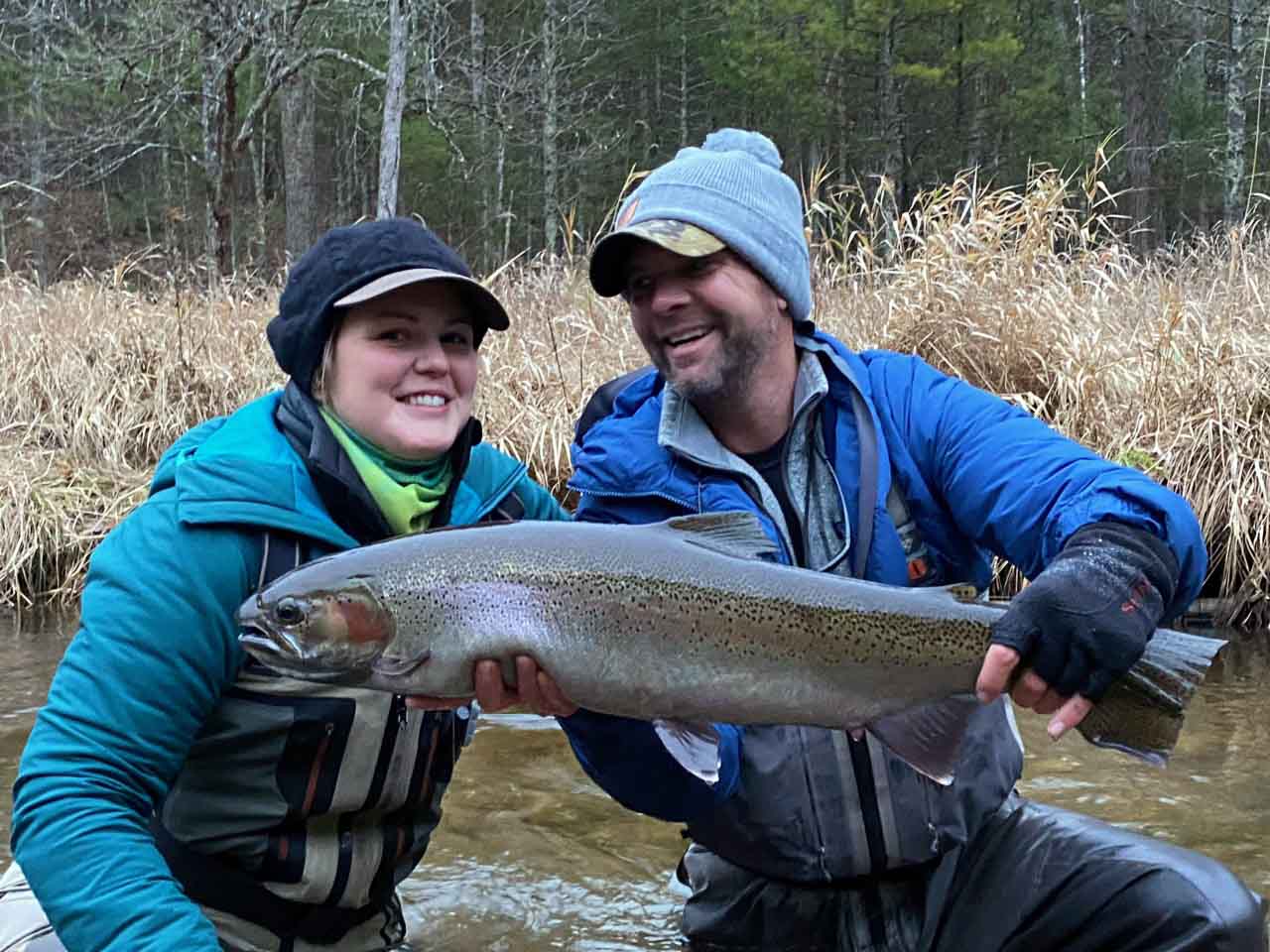 Steelhead fishing on the Pere Marquette River is getting tough again.  Low, Cold and Clear water making the bite on and off every day.  We're working for it, which isn't all bad. It makes it that much sweeter when you feel that pull.  You can find fish scattered throughout the whole river.   Try smaller Nuke Egg's in Cheese, Apricot and Golden Nugget.  For Nymph's Hex's, Buggers and Hare's Ears work well in the colder water.  For the Swing, brighter Leech flies worked well on cloudy days.  On sunny days smaller less flash Sculpin's or other baitfish type patterns.
Happy Holidays to everyone and tight lines !!!! Jeff
Pics form last week   Matt and Katrina had the best bite of the week we hooked every-thing from nice Brown Trout, Coho, and Steelhead. Despite the cold wind, we had a great day. If interested in some Trout fishing next summer on the AuSable River , Matt is a great guide at Gates Lodge 
Fly Shop, Fishing Lodge, and Restaurant in Grayling, Michigan (gateslodge.com)
.   Tom joined me for his annual three days of Swinging flies for Steelhead he did great despite a tough bite we managed to find a few.
Great friend and guide of the Muskegon River, Kevin Feenstra, just released his new book: Matching Baitfish. It's amazing! If you or anyone you know is a Fly Angler or loves chasing Steelhead with Fly Rod and Reel this is a must have.   The text is as amazing, as are the photos. I'm so proud of him.  You can go to Kevin's site 
http://www.swingabigfly.com/matching-baitfish-by-kevin-feenstra/
 and order a copy today. Buy it for a Christmas Present!  I can't put the book down!