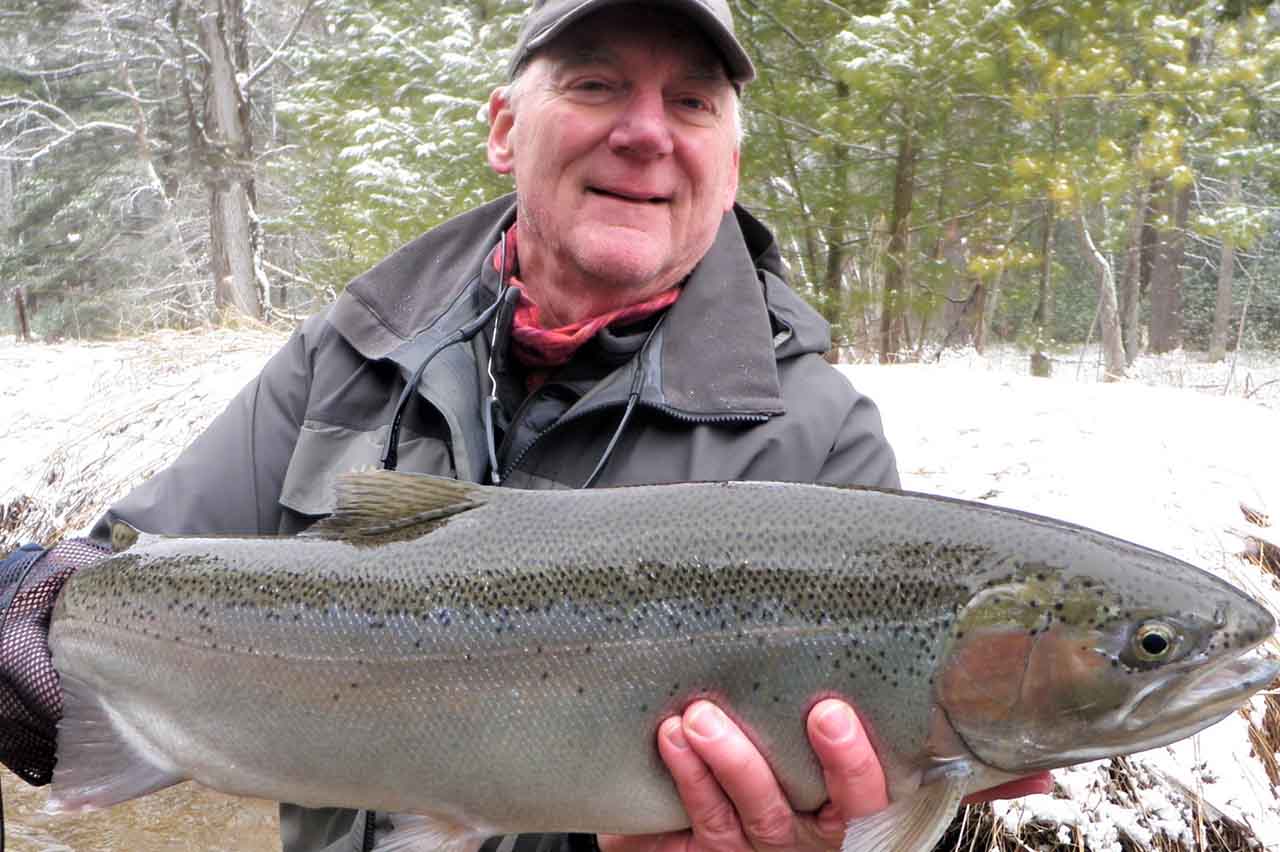 The Pere Marquette River fished well last week for Steelhead.  The river level dropped quite a bit and the water still has a decent stain to it. Look for the P.M. to start to clear this week and drop even without any rain in the forecast.  Steelhead remain scattered throughout the whole river system.  We're seeing a few fresh Spring fish however not as much as expected for the higher water of two weeks ago and the warmer weather.  The river is very busy for this time of year we're seeing a lot of Angling and boat pressure ."March Madness" is upon us. Most of the Angling pressure is still due to COVID in addition to this great weather we're seeing.  We have had some great days to be outside. Please respect each other and have fun out there and please do your part each time on the water and pick up a little garbage along the way.  Thanks !!!!
For flies try smaller Egg flies as the river is dropping in brighter colors still.  Hex, Steelhead Bugger's, and Fry patterns worked well too last week. On the Swing try brighter Leech or Baitfish patterns in smaller sizes.
Pics from last week 3/15-3/19 2021
Bob and Tony started the week off with some great Steelhead fishing. Despite a little Winter weather again they both found some great fish on the Indicator's and Switch Rod's. Steve and Jim had one of the best Steelhead fishing days I have seen in quite awhile, maybe it was the luck of the Irish or that Hostess Cherry Pie, we made some great memories and found some nice Steelhead along the way.  Scott and Jerry joined me for a great day on the water and Scott who has fished for Steelhead with me for awhile now managed to get his first fish on the Indicator and Switch Rod. I was so excited for him.   Scott and Dave joined me on a busy Friday despite the boat and Angling pressure, these two did great for they're first time Steelhead fishing with a fly rod.  We had a great day! 
Thanks 
to all of you for a great week!
~Jeff