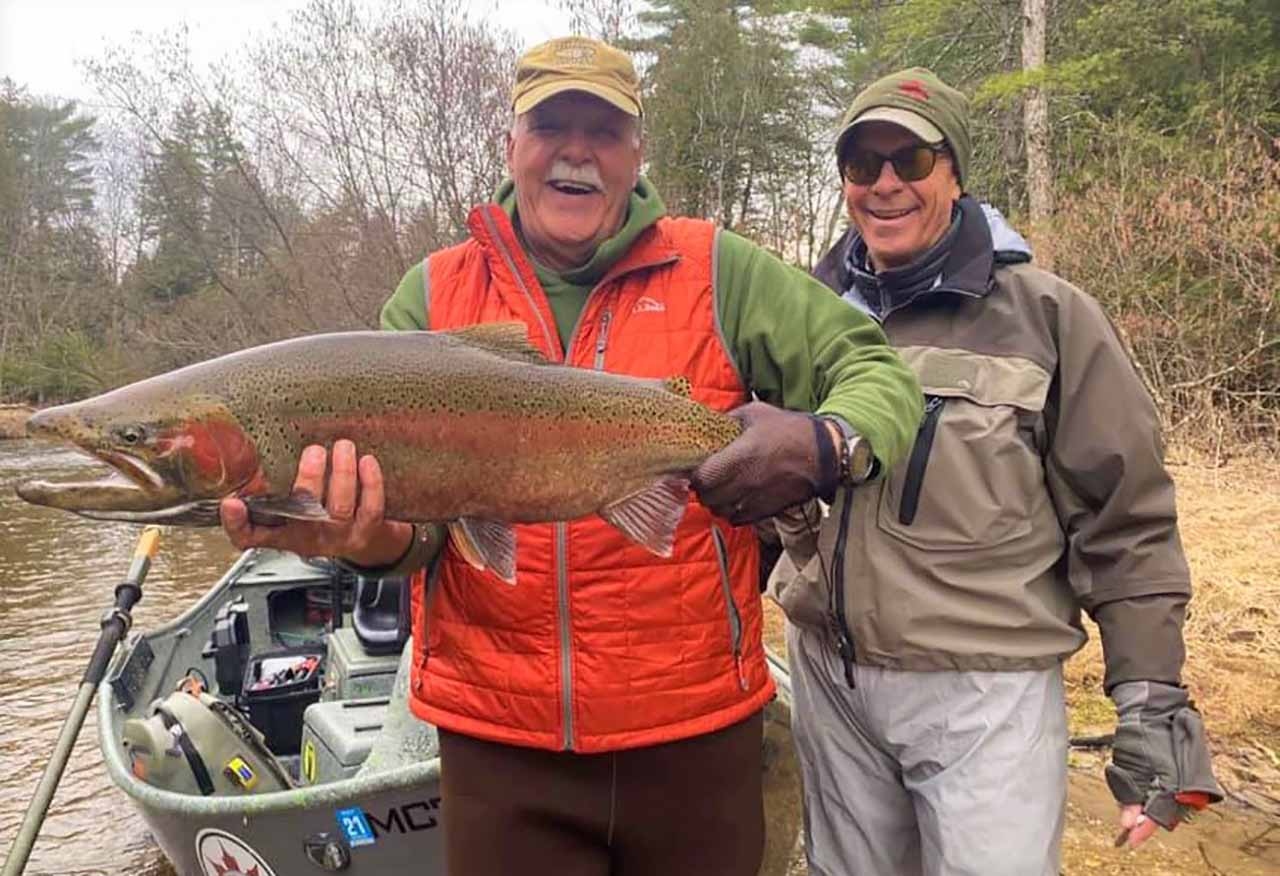 The Peeper Frog's are peeping. Birds are singing. The Grouse are drumming on the banks of the Pere Marquette River!  Spring finally seems to be settling in up here. The Pere Marquette River fished well for Steelhead, last week. You can find fish scattered throughout the whole river system. With warmer weather these fish are going through their cycle and dropping fast. Some rain today will hopefully bump up the river level and cool down the temperature a little. This will slow the existing fish down and bring new fish into the system. We could really use a bump in the water level. For flies last week Nuke and Estaz Egg's worked well. Along with Steelhead Bugger's, Stoneflies and Fry patterns are starting to turn on for their hatching now along the banks of the river. 
Thanks,
 again to everyone who joined me last week it was great fishing and pleasure to make more memories with you.
Pics from last week:  Steve and Jim just can't get enough with one of the best Steelheading days I've seen in a long time on St. Patrick's day,  Jim and Steve were back on the water this last week. Steve fished for a couple days as his wife Karen joined him too.  We managed to find some great fish on Egg Flies and Fry Patterns last week and Karen took a great Brown Trout on my PM Parr pattern.  She managed to catch a rock, hooked a little hole in it , I told her "that took some skill, Rock On".
😁.  Steve wrangled with this giant Buck that took a small clown egg.  Sam joined me for another great day on the river, he took this nice buck on a Stonefly pattern.  Bob and Greg finished the week off with their annual Spring Steelhead fishing trip. We did great! The fish and the weather both cooperated nicely, it was a fun couple of days on the river.