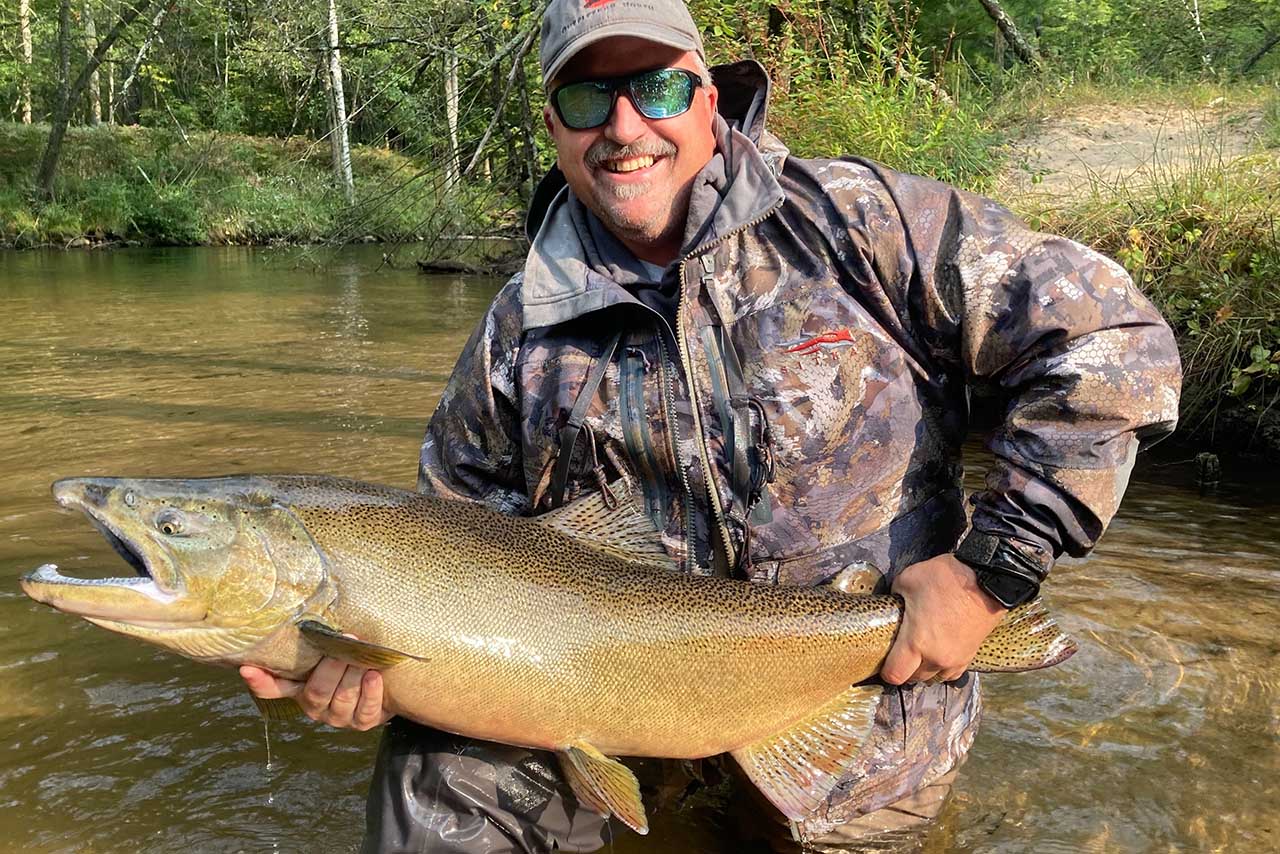 The calm before and after the storm produced some good fishing.  If you were not aware, last Tuesday afternoon we saw a horrific storm blow through the Baldwin area.  This storm was unreal – packing  60+ mph winds and baseball size hail.  Trees went down, and many vehicles and homes ruined from the giant hail smacking them as if a major league baseball player was throwing fast balls.  Power was out for quite some time, and the clean-up has begun.  All of the local Fly Shops, Canoe Rentals, and local Lodging in this area were affected. If you're heading up here to do some fishing, please help them out. Stop in for some gear or flies, and maybe book a stay while you're in town. We have been hit now for three consecutive years in a row, from storms to Covid.  Thank you for any help you can give!
The River is in good shape now! The hardest hit area of the storm was anything south of the Airport on M-37 and then West and Southwest of there.   Flies Only water especially M37 to Green Cottage got hit hard with down trees and debris.  USFS was in there on Thursday hopefully cutting and assessing the damage.  As for the fishing, we did see another push of Kings enter the river.  These fish were on the move through the lower stretches and once they hit the upper stretches, they scattered. There are a lot of voids in areas but that's usually the case for early season Kings and with the rainy, cloudy weather we had last week, the conditions were perfect for them to be on the move. With a little hunting, you can find fresh pods in pools and runs throughout the whole river system.  Trout fishing picked up a little last week. The river had a little stain and with some cooler water temps, the fish became a little more active.
Pics from 9/7-9/10   Good friend, and all-around Outdoorsmen Tony, and his friend Doug joined me on the day of the storm. We played it safe knowing it was going to get ugly and fished a half day and were able to get everyone off the water and safely back when the storm hit.  The fishing was good before the storm hit – Tony and Doug found some nice Kings on the Fly Rod. Matt was all smiles with a nice fresh King taking on an Egg Sucking Leech.  Rich and I mixed it up and tried some Trout fishing. Small streamers were the ticket! We sparked interest in a few good fish willing to play despite the bright sun and a river which was quickly dropping and clearing. Paul and Jim finished off the week with some good Salmon fishing – we had to cover some water in the morning to find them, but it was well worth it. Have a great week!