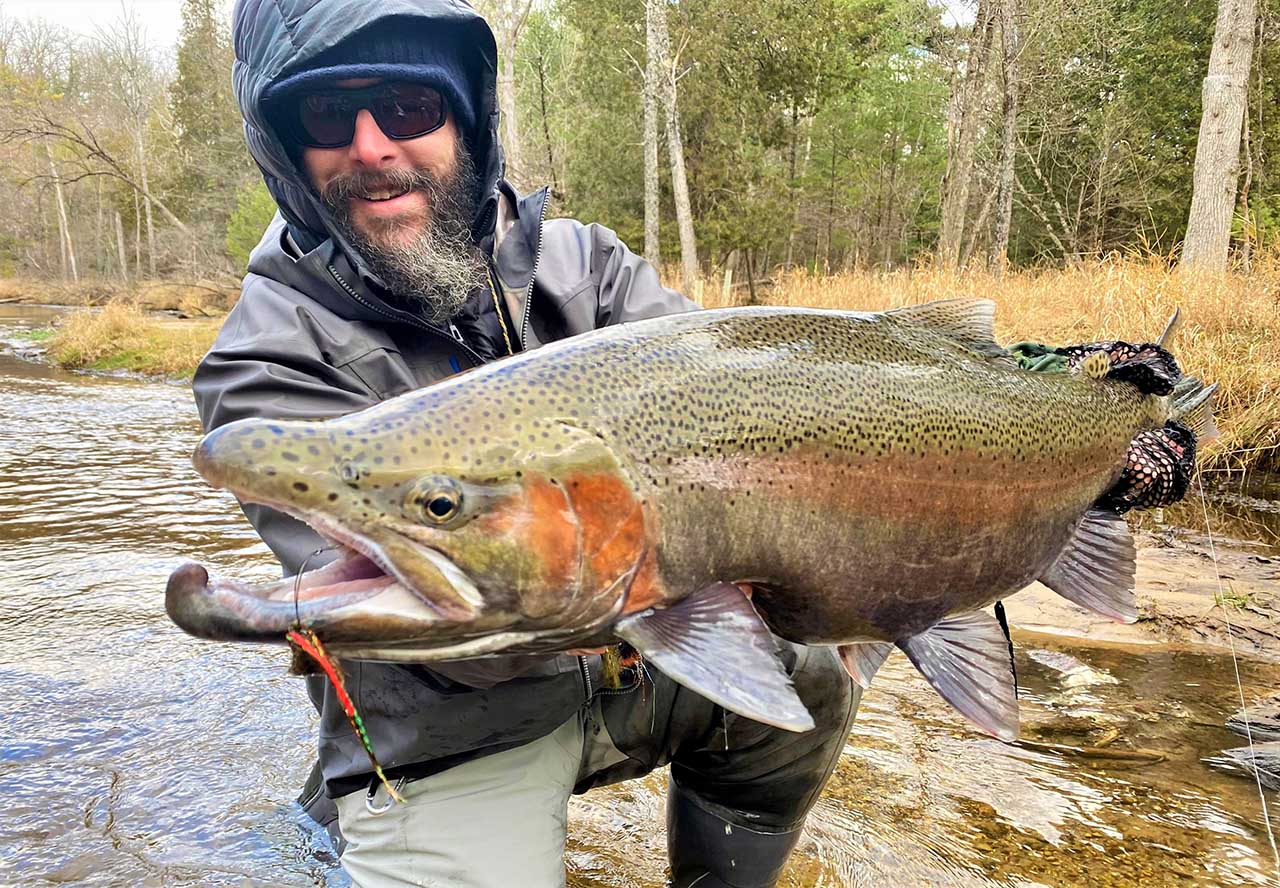 I Hope everyone had a great Thanksgiving !!!!  It was a crazy week of Snow and Rain and the weekend brought some nice weather and heavy Angling pressure.   Steelhead fishing remains good with another little bump in the water level last week from some rain and melted snow.  You can find fish scattered throughout the whole river system.  Nuke Egg's and Clown Egg's fished under an Indicator are working well. For Swinging flies try bigger and brighter presentations.  With the higher water level and cloudy days, flashier flies can work well.
Pics from last week : Rich and his Dad had a great day on the river.  We found a mixed bag of a few Trout and Steelhead that we were able to shake hands with. Rich took this bruiser of a buck on the swing. Rich Sr. found a nice Steelhead at the end of the day on Nuke Egg.  Ryan joined me for his annual Steelhead fishing. The weather wasn't nice, but it didn't stop a few Steelhead from biting our flies. Ryan and I were able to coax a on a nasty day.  Heather and I went on a short float on Saturday and tried to go were the least Angler's and boats would be. Not a great stretch but we fished hard and found a couple of fish. This great buck fell for a Clown Egg.  It was great fun, and we enjoyed the sun and a little Vitamin D.  Friday, I headed south and joined good friend and Upland Bird Guru of Dog's, pheasants, Grouse and Shooting Scott Broiser for a nice morning of Pheasant Hunting.  The Dog's did great and had a blast. Check him out at 
Pine Hill Sportsman's Club (michiganbirdhunter.com)
Thanksgiving Morning on my way to the river I found a rod on the side of 72nd Street before Green Cottage on the road. If this is yours contact me. it was good karma I got a nice fish on the swing !!!! (:
Great friend and guide of the Muskegon River, Kevin Feenstra, just released his new book: Matching Baitfish. It's amazing! If you or anyone you know is a Fly Angler or loves chasing Steelhead with Fly Rod and Reel this is a must have.   The text is as amazing as the photos, so proud of him.  You can go on Kevin's site at 
http://www.swingabigfly.com/matching-baitfish-by-kevin-feenstra/
 and order a copy today. Buy it for a Christmas Present!  I can't put it down.