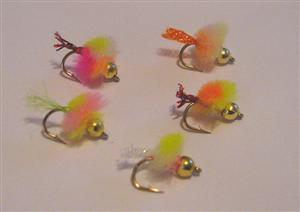 If you are like me, you get bored with tying the same old globugs and nuke eggs every year. My boredom inspired an egg pattern my daughter named the Juice Box. I tie it in a number of different "flavors" and here are a few that have been productive.
Juice Box Recipe
Hook: Your Favorite Caddis hook #6-#10
Bead: Unweighted bead color of choice
Tail: Sparkle Braid color of choice
Body: Sparkle Braid wrapped forward
Egg: Egg Yarn colors of choice tied in figure eight style, pulled back toward the bend of the hook and cut.
Flavors
Fruit Punch Juice Box – steelhead orange, chartreuse, cherise, white
Lemon Lime Juice Box – chartreuse, oregon cheese, white
OJ Fruit Box – steelhead orange, oregon cheese, cream
Grapefruit Juice Box – charteuse, shrimp pink
Citrus Fruit Box – chartreuse, steelhead orange