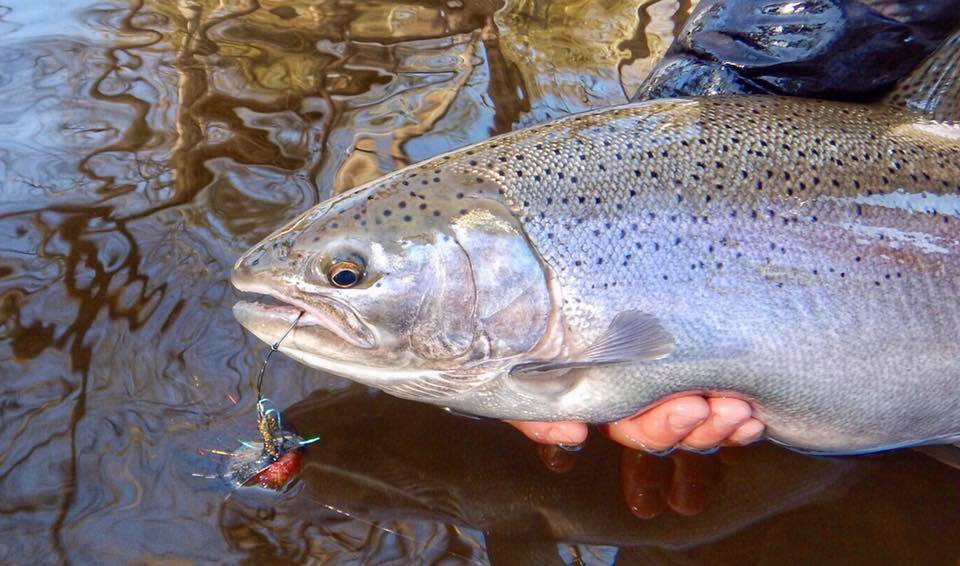 The last couple of weeks the weather finally felt like it was going to change over to  Spring.   I'm hoping it's for good and not just another tease.  Yesterday morning I even heard the song of the "Cheeseburger Bird" while putting the boat in.  While the weather felt like Spring, the Steelhead fishing the last two weeks has still felt like Winter Fishing. Covering a lot of water to find a few good fish in the mood to take a Fly.  They're still  not a lot of Steelhead in the system more Winter fish then Spring fish.   That is about to change though, as I'm writing this it has not stopped pouring.  With rain expected through Wednesday.   The snow is dissipating fast and the Pere Marquette River is coming up quick.  I will keep you posted on its conditions through out the week.  Right now it's not looking good, judging by the lake in my driveway.
Flies that seemed to work well last week were Egg Flies in more Natural Tones, Stonefly Nymphs and Hex Nymphs got a few Trout interested.   On the Swing, bright days were smaller less flashy patterns like the Low Water Leech and Olive Sculpin patterns worked well too.
Few Pics from the Week ,  Brad with a nice Steelhead taken last week.  Rich Swings one up on a bright Spring like day.  Brandon and Robby fished the river two weeks ago and found a big surprise.  That's a fresh king Salmon taken in a pool in the middle of February. "Pretty Cool", nice job guys. Photo was taken by Robby Mason.